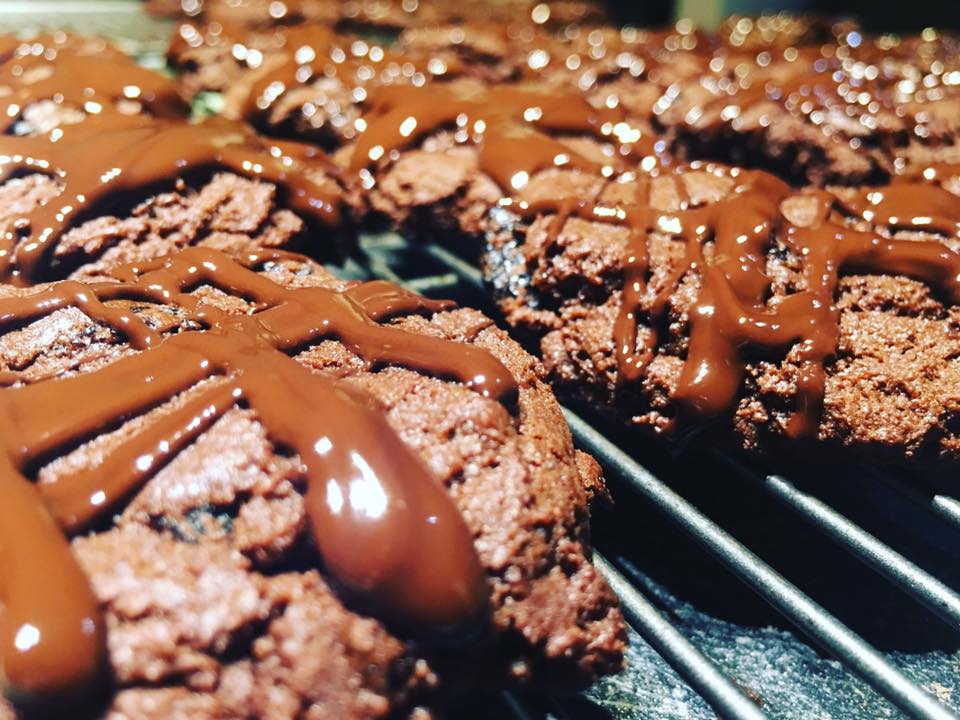 I love a chocolate cookie but was frustrated when I could not find a recipe for one that captured the experience of eating good, dark chocolate. It was this frustration that actually spurred my (relatively) recent interest in baking. I tinkered around with several different recipes I found, mixed and matched elements I liked and disliked from each and eventually arrived at Dark Chocolate Rituals which were one of the first recipes I shared on this site. I have made the recipe many times and have occasionally experimented with other versions that, instead of coffee beans, incorporate orange zest and dried cherries. It was good but the flavor profile was too close to my Sunburst cookies. I loved the combination of dark chocolate and cherries but wanted something else to bridge those two flavors.
I have recently started using gochujang — a fruity and spicy, fermented Korean chili paste — in my ever expanding arsenal of flavors. While rummaging through the refrigerator for stuff to empty into a fritter I did a taste spoon to see how it would go with the Mediterranean flavors in my egg dish (the answer was "not so well" but I fortunately had a jar of Calabrian chilies). I could not get the flavor out of my head and began to imagine how it would taste with chocolate and then with cherries. I fooled around with the recipe a little and just prior to Grand Prix Atlanta I had a batch of cookies that exceeded my expectations and is now my favorite chocolate cookie in my repertoire.
Molten Pinnacles
1 Cup All Purpose Flour
1/2 Cup Dark Cocoa Powder
1/2 teaspoon baking soda
2/3 teaspoon Kosher salt
5 oz dark chocolate for melting (I used a 76% chocolate for this batch)
5 oz dark chocolate chunks for even more melting
1 stick unsalted butter (grass-fed butter really makes a difference)
1 1/2 cup granulated sugar
2 large eggs
2 tablespoons gochujang chili paste
1 teaspoon pure vanilla extract
1 cup dried unsweetened cherries. I used bing cherries for my recipe.

Time to make the cookies
Preheat oven to 325 degrees.
Melt 5 oz. of chocolate with one stick of butter in a double boiler or small metal bowl set over a pan of simmering water. Add the gochujang as the mixture melts and becomes smooth (I used an immersion blender to make sure it evenly dispersed through the mixture. Meanwhile add flour, cocoa powder, baking soda, and salt into a bowl. Whisk together and set aside. You also want to halve your cherries.
Add sugar, eggs, and vanilla in the bowl of your mixer and beat until light and fluffy. Add the melted chocolate mixture and combine. With speed turned down to low add the flour mixture in stages until it is all incorporated. Fold in the chopped dried cherries at the end and mix until they are just distributed through the dough.
Scoop the batter onto parchment or Silpat lined baking sheets with a small ice cream scoop. Leave about 2 inches between each cookie. Gently flatten each cookie into a disc. Bake for 15 minutes and transfer cookies to wire rack to cool. While the cookies are cooling you can temper the remaining chocolate to put on top of them. I like to reserve a couple squares of chocolate and put the rest in a glass bowl and melt in the microwave on half power. I go in short bursts until the chocolate is mostly melted. I then stir it until it melted smooth. I add the reserved pieces of chocolate and stir them in as well until melted — this "reminds" the chocolate of what it is supposed to be like when it cools. I then drizzle the chocolate over the cookies in a criss-cross pattern and let them sit until the chocolate has hardened. Then transfer them to an airtight container.
Makes 2 to 3 dozen spicy cookies.