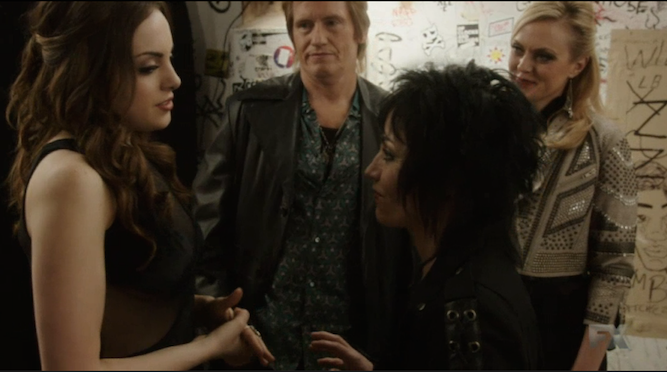 Posted by Katherine Recap
|
TV
[For Sex&Drugs&Rock&Roll's "Lust For Life" or any other recaps on Fetchland, assume the presence of possible spoilers.]
FX Summary:

Lust For Life Johnny decides to stay dead for financial reasons.
Episode three kicks off with Johnny explaining to Gigi that nobody has ever really loved him. He says what happens is they actually just fall in love with the "idea" of him and then end up disappointed in the real deal. Soon after this de facto heart-to-heart, Johnny finds out the Internet is proclaiming he's dead – choked on a chicken bone. Johnny tries to get over the fact that Rolling Stone hasn't picked up the story when his manager suggests that maybe he's best off deceased because the info that he's dead has been boosting album sales. Johnny agrees as long as they can "come up with a cooler way to kill him." Unfortunately, all the hippest deaths were taken by former rock stars. The band then fights over who gets to shoot him while getting increasingly excited about changing their name to The Assassins.
Johnny hears Gigi say, "You'll be a rock n' roll legend" and signs on for the brilliant plan, while Flash gets to fulfill his decades old dream of killing him. When the news of his repackaged shooting death hits the real media, ie blogs, Johnny's girlfriend, Ava, gets flowers from hot rock stars. Then the news comes out that at some point in his career Johnny slept with Joan Jett. This infuriates Ava. She's incensed because apparently when it happened Johnny didn't even have the consideration to ask Joan if she wanted a threeway "she's into girls, ya know." Yeah, we knew that, Ava but we didn't know how completely awesome you are – until now.
Johnny's death doesn't just boost sales for old Heathens albums it also serves as an "origin story for Gigi's new band". Buzz develops momentum thanks to her Twitter-posted pink bikini bod and she begins to develop name recognition. At the same time videos start rolling online of Johnny's historically frequent "vomiting incidents" during shows. Subsequently, Gigi gets the jitters about her first big gig and tells Johnny a Brooklyn version of the Jonah and the whale bible story to explain how she's his second chance at fame – a big responsibility for such a petite girl. Gigi hopes she didn't inherit his fear of success making Johnny realize his kid is insightful and maybe he really does have a second chance now – thanks to her.
Joan Jett makes a sexy, funny rockstar guest appearance backstage at Gigi's gig. She emasculates Johnny and encourages Gigi with the perfect advice all in one swift encounter. Then Johnny figures out that his death hoax, which essentially got Gigi's band on the map, was orchestrated by the band's manager to raise their Q score. But Johnny can see it's working as an undeniable of-the-moment rock n' roll coup, so he agrees to the Twitter handle @GigisDad along with the Tweet announcing that in fact, he's actually alive.
The episode wraps with Gigi performing a song she and Johnny wrote together. She invigorates the room with sublime sex appeal and a thrilling voice – exquisite bliss for audience ears in the age of auto-tune. Joan Jett says what everyone's already thinking, The girl's gonna be a star. Johnny watches from the wings with a smile because this It Girl is his girl. When she sings their song it's clear Johnny finally knows for sure that somebody loves the real him after all. He wipes away a tear and then the crowd starts chanting "Gigi, Gigi, Gigi…."
–Katherine Recap