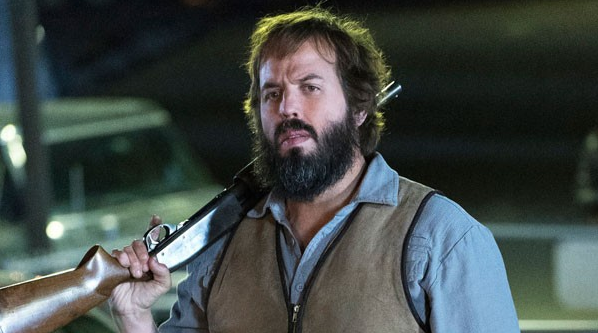 [For Fargo "Did You Do This? No, You did it!" or any other recaps on Fetchland, assume the presence of possible spoilers.]
FX Summary:
Did You Do This? No, You did it! Lou and Hank investigate in Fargo; The King of Breakfast visits Betsy and Molly; Floyd is summoned away; and Bear questions a family member's loyalty.
Episode seven, "Did You Do This? No, You did it!" forges forth with the war's battles, repercussions, power shifts and blunt conversations. It feels like a brilliant chess match in which every player underestimates their opponent. Everyone except the lone wolves, Lou Solverson and Mike Milligan. They're far too smart for that classic mistake.
We open on Kansas City Mob and Gerhardt family members battling in a creative montage of war scenes: window washers with machine guns, a strangler skulks at a bar, and someone drowns via toilet swirly. These murderous portraits intercut with scenes where pine-boxed Rye and Otto are buried in their backyard. Bear didn't attend this bare-bones-brand Gerhardt funeral but shows up at the end with news of the war for Floyd. It's about even, he tells her, but Kansas City got South Carolina from them… big time bummer. Simone then mouths off to Floyd and gets slapped when she claims Dodd shits and sleeps like any other man. Floyd doesn't abide that kinda talk. Then the cops come and take Floyd to the station for questioning. They waited for the funeral to end – all polite like. Lou asks Bear Dodd's whereabouts and he replies that Dodd found Jesus and joined a monastery. Lou laughs Bear's answer off… without laughing, of course.
At the police station cops chat behind the double sided mirror while Floyd awaits them in the interrogation room. They say they've got APBs out on Ed and Peggy. It's all a muddle to them. Then they're questioning her and Hank asks Floyd, "How far does it go?" referring to the tennis match of murder between the KC mob and the Gerhardts – lobbing back and forth, one dead right after the other. She tells him the Gerhardt's backs are to the wall. Hank asks if there's anything she can tell him to help him get the Kansas City Crew, weaknesses and such.
Simone does coke and drives to Mike's hotel. He's currently on the phone with his boss, Hamish, who's pissed about the window washers killing three of his people. "Two days and he's sending The Undertaker," Hamish threatens. Then Simone enters the room pissed that Mike killed her grandfather rather than her Dad. What's the diff? Mike replies, but in a much more articulate way – referencing Shakespeare and such. Simone remains unimpressed, "Are we gonna talk or are you gonna keep quoting a thesaurus at me?" Then the real shit hits the fan when Lou comes in with the wimpy Fargo detective just in time to stop the Kitchen Brother from compromising Simone. Lame detective takes Simone out so that it's just Lou and Mike Milligan alone in the hotel room. Standoff time. Lou and Mike are equally matched in a war of words, fully understanding each other which results in no movement forward or back between them – a draw. Lou leaves after telling Mike he'll likely shoot first and ask questions later next time they meet.
In the elevator with Lame Detective Simone knees him in the nuts, says she's done lying down for men and goes out to the parking lot just as Bear drives up. He tells her he'll give her a ride and the guy in his passenger seat will drive her car back home. So, Simone's got no choice but to join Bear in his truck. During the drive she's nervous, then righteous then nervous again – like she's anticipating, experiencing, and then grieving her own death ahead of time. Bear parks in the middle of nowhere; a field of nothingness, snow, and the cawing of a crow. He walks her far far out between skinny naked trees while Simone pleads her case. He says the only reason the Gerhardt's are losing the war is because of her – the deaths of her uncle and grandpa are on her. Simone retorts that it's all Dodd's fault because he wouldn't let Floyd negotiate. On her knees she begs him to banish her rather than shoot but Bear says there is no family anymore and to hush now, it's already done. He points the gun at her and then the camera pans away so we don't see if he shoots. We hear the song "Oh Danny Boy" rather than any hint to what happened. After Bear returns to his truck he smashes his cast off his arm on the hood and then drives home – stoic. Did she escape? Did he shoot her? Was she banished? We don't know.
Back at the police station Floyd decides to flip and tell all about the Kansas City mob. She says they gotta promise no repercussions for her kids or grandkids… then tells them all about the Kansas City operation weak spots, where they stash weapons and so on. When she comes out of the station Floyd orders Bear to find Dodd and Hanzee. Watching her leave, Lou tells the wimpy Fargo detective it seems like they just chose a side. Then Hank comes up to them and says he just got word Hanzee shot two cops up in South Dakota while trailing Ed and Peggy. Lame Detective says they'll likely just have to let those police officer deaths slide since they just struck that Gerhardt deal with Floyd. So, Lou points out to him that he's a shit cop. Wimpy detective mumbles about how he's about to get promoted but it's evident that Lou's accurate yet again. Bear then drives Floyd home and as they arrive at the Gerhardt estate she says she wants to apologize to Simone – awkward. Then Hanzee's on the phone saying he found Dodd. So, Bear's saved by the bell for the moment.
Betsy comes home to find some strange boots at the front door and loads a shotgun before lurking around holding it ready until she eventually finds Karl Weathers making eggs and pancakes with his friend Sonny in her kitchen. Turns out he's the Breakfast King of Loyola. Lou calls and Betsy reminds him she really doesn't need looking after. He knows he knows… but he worries is all. Later on Betsy asks Karl to look after Lou and Molly when she's gone and implies that it's likely she'll be gone soon. She insists that Karl tell Lou that if he needs to get married again it's OK, just not to Rhonda because her eyes are too close together. Make sure Lou feeds Molly more than jerky and also, Karl Weathers, stop drinking, at least not during breakfast anymore. He says Ok and they hug. Then Betsy goes by Hank's house to feed his cats. She finds a secret room full of mysterious symbols drawn on paper posted everywhere. Some of the symbols have definitions underneath and some are just plain – there are hundreds, so they cover nearly every inch of the room. Betsy just opened a door to Hank's secret obsession and it appears to be UFO-related because many of the symbols have UFO connotations. What must Betsy be thinking? But more importantly, what the heck's up with Hank?
Right after Floyd spills the Kansas City beans at the station Mike Milligan gets a phone call that, "The Undertaker's coming. You're done." So then The Undertaker shows up, a fossil of a man in an 1800s style suit with two flunkies at his side. It's a slow and ominous ride up the elevator for them but what they don't know is their target's perfectly prepped for their arrival. Mike's ready and waiting like a human booby trap in his deep purple blazer and bolero tie. When they enter the suite he blasts them without warning. All three go down in unison, their blood staining the wall in three red splatter balls where each stood for only a millisecond. Mike's hotel room phone rings then and he answers with a blood-covered hand. It's Ed Blomquist telling Mike he's, "Got Todd Gerhardt in the trunk of my car. You want him?"
Episode seven is packed with unexpected wonder, especially the kind that resonates when humans are faced with their own inevitable death. Betsy and Simone are particularly sublime examples of this. Both live on for us at this particular moment in the story of Fargo but we expect to find out they're dead any minute… just as they do within the narrative. But the most glorious aspect of this episode is how satisfying the ending feels even with all the unanswered questions. That's likely because of our resolute relief that Mike Milligan remains alive – we would miss him most of all! And then there's the divine, palm rubbing relish of imagining the macho douchebag, Dodd sweating it out in Ed Blomquist's trunk. That image has got us whistling all the way to the water cooler.
–Katherine Recap