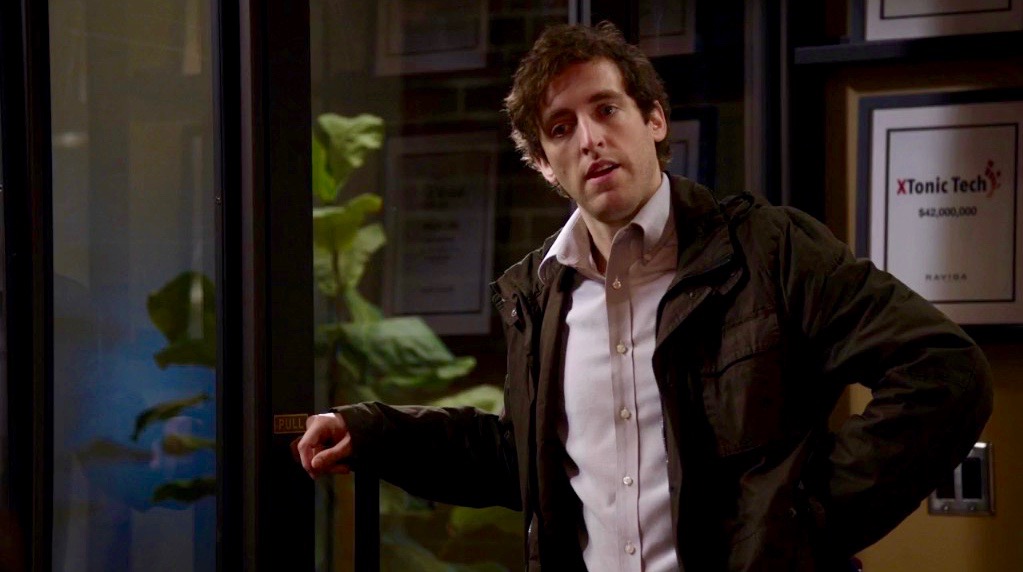 [For Silicon Valley "Founder Friendly" or any other recaps on Fetchland, assume the presence of possible spoilers.]
HBO Summary:
Founder Friendly. After being fired, an angry Richard faces a tough decision; Erlich approves of the new CEO.
Season three's first episode, "Founder Friendly" opens right where last season left off, with Richard finding out he got fired over the phone. He and Erlich leave the incubator in a rush to confront the Pied Piper board. Once there the board tells Richard they're going to replace him with a new CEO and make him CTO. His lawyer, Ron, wearing a snazzy bike outfit because he just bailed on spin class, tells him he's fucked. At least Richard's still got his shares and board seat, Ron tries to comfort him. But Richard says he's leaving and suing them. With this news, Lawyer Ron has to stop serving as Richard's counsel because he threatened to leave and sue Pied Piper… and, technically, Ron works for Pied Piper not just Richard.
Later Monica comes by the incubator and tries to make it up to Richard saying she's still on the board and will fight for him. Then she tells them about the new CEO, Action Jack Barker. He's got mucho impressivo experience and the profoundly awesome character actor, Stephen Tobolowsky plays him perfectly as the down-to-business CEO Pied Piper really needs. Here's Stephen in Groundhog Day in case you don't recognize him by name:

Meanwhile back at Hooli Gavin makes a public statement of farewell to the Nucleus division. They'll no longer be a functional part of Hooli. Sometimes failure is just failure. All Nucleus employees will be terminated. Also because of the clause that lost them the lawsuit with Pied Piper, Hooli needs to fire a substantial number of employees and all the unvested stock options that belonged to those employees will return to their budget for whatever usage Gavin chooses. So, they fire 1700 people and Gavin decides to use the new funds allocated to get rid of "Big Head" with a twenty million dollar severance package. All he has to do is sign a non-disclosure agreement that he will never talk about what happened at Hooli or speak ill of Gavin. Meanwhile, Big Head, the most feared man imaginable in this scenario, has virtually no skills and never did a single minute of work for Hooli.
Richard tells his Pied Piper peeps he's leaving the company and Jared immediately has his back while Dinesh and Gilfloyd are more reluctant about leaving with him. They drink beer in the backyard for a hilarious bitch session. It's funny because for everything bad they say about Richard they forcefully counter with what a great guy he is. They make up an anagram to compress the "nice guy stuff" RIGBY – Richard Is Great But Yet and use it to begin and end their every nasty sentence. The next day they tell Richard they're going to stay and work at PP without him. He laughs and says there's no way they can scale and deploy without him. Later Dinesh and Gilfloyd attempt to scale it without him but fail. So, then they decide to "take the high road" rather than admit defeat in coding. They claim to quit Pied Piper in solidarity with Richard even if he did slam them upon exit.
Meanwhile Jared and Richard are forging a new path forward and plan a new career for him at Flutterbeam, which is a lot like Skype. Richard interviews for their CTO position and they've got a special project for him to engineer – a mustache faceplant so that when chatting during flutterbeam usage you can whimsically change your facial hair. Mustache engineering, of course, makes Richard significantly less pumped about this career move. He calls his other lawyer, the alcoholic one, only to find out he's back in prison due to drinking a Kombucha that steered him off the wagon. But Richard brings the Flutterbeam contract for him check in prison anyway. He advises Richard to at least meet with Barker. Richard will be CTO whether he's at Pied Piper or Flutterbeam, after all.
In the next scene Erlich meets Action Jack, the new CEO and immediately adores him because Barker says he's a fan of Erlich and, frankly, that's all it takes. Then Richard finally meets with Barker at Action Jack's mansion and they chat over an iced tea he never even touches. He tells Jack he feels shafted and that if Barker takes the CEO position he'll leave the company. So then Jack says OK, I won't take the CEO position because without you doing the technology, Pied Piper won't work. The company needs your expertise. Barker's quick, gracious, and polite. It surprises Richard but also makes him feel important and heard. As he's driving away he realizes he can't give up on Pied Piper and backs into Jack's driveway to return. He's gonna tell Barker he's on board.
The ending of the episode is perfectly analogous to the particular "hero's journey" traveled in this episode. Richard comes around full circle in the end. In the beginning he's resistant to this ginormous change that's edging away his control of the company. But Richard quickly forgot that just before he got the call removing him as CEO he'd barely gotten Pied Piper back due to the whole lawsuit debacle of last season. Truth is he only recovered Pied Piper because of a legal technicality involving his Hooli contract. And this wasn't the only gap in his company management skill set since starting the company. Maybe he really is best-suited to the CTO role… a concept Richard comes around to at the end of the episode when he backs into the driveway of the very guy who seems perfect and ready to suit up as the Pied Piper CEO.
–Katherine Recap